Christmas Bump
by Trisha Ridinger McKee
BARGAIN
Chick Lit
Rating: 4.3

Winona has been sheltered her entire life. Raised by a protective single father and overshadowed by her high-achieving, older half-sister, she is suddenly feeling the need to break free and pave her own way. When she discovers she is pregnant, she moves to a small town, the sort of place she has always dreamed of with quaint shops and neighbors that stop in for a cup of tea... and town festivals, including the ever-popular Christmas Festival.

The only snag in her dream move is the irritatingly handsome, independent Cooper, the same guy who owns the house she is renting. Struggling to overcome her spoiled ways and prepare for the upcoming baby, Winona knows she has to ignore the charm of this man or possibly risk falling into the same trap she worked so hard to escape.
---
Wanderer's Song
by P.E. Padilla
BARGAIN
Epic Fantasy
Rating: 4.3

The one to crush the darkness... Nearly three thousand years ago, the Prophet penned the Song of Prophecy, foretelling a time when darkness would engulf the world and threaten all life. The Malatirsay would come, the Chosen One to save the world of Dizhelim, wielding magic unseen in centuries. To prepare for this future time, the Hero Academy was built, its sole purpose to train the One. But it has lost its focus throughout the ages, not watching vigilantly for the signs of the end.

The time has arrived and the animaru have come, dark creatures of un-life, intent on snuffing out all living things and light itself. But where is the Malatirsay?
---
Evangelina
by Tammy Gross
BARGAIN
Coming-of-Age Thriller
Rating: 5.0

Based on the award-winning film script, which is inspired by a true story, EVANGELINA is optioned to become a Hollywood motion picture.

Just before Halloween, 13-year-old Autumn is sent to counseling after an assault. In her first session, a murder victim seems to be reaching out to her for help to find the victim's murderer, who may be closer than Autumn thinks.

But before she can solve the crime, Autumn must figure out if she's truly psychic or just psycho before a very real murderer catches up with her.
---
A Strongman for Christmas
by Marisa Masterson
BARGAIN
Christian Fiction
Rating: 4.5

Wynona Thorne lives a hard-scrabble existence with her father. At least their life was peaceful. That all changed when her father died. Her brother's behavior turns violent now that Wynona's father isn't there to stop him. Desperate, she takes her future into her own hands by answering an advertisement to be a mail-order bride.

Neither the groom or bride are completely transparent in their letters. He travels with a circus. She's, well, stout! When they meet, Cornelius Branard refuses to marry Wynona. Stranded at the circus, what will Wynona do? Can she trust the strong giant who is built so much like her terrible brother?
---
It's All About Him: Finding the Love of My Life
by Ellen Vaughn & Denise Jackson
BARGAIN
Inspirational
Rating: 4.6

Alan and Denise Jackson's life seemed like a fairy tale: high school sweethearts marry young and leave small-town Georgia to pursue big dreams in Music City. They pay their dues, work hard, weather deep disappointments. Then their dreams come true.

In fairy tales, the Jacksons' material success plus their "perfect" marriage, their three beautiful daughters, and their supportive families would have signaled a happily-ever-after ending. But real life is different from fairy tales.
---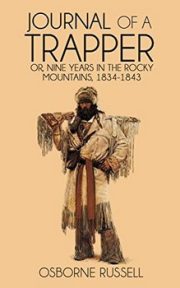 Journal of a Trapper
by Osborne Russell
FREEBIE
Biography & Memoir
Rating: 4.4

In 1834, Osborne Russell joined an expedition from Boston, under the direction of Nathaniel J. Wyeth, which proceeded to the Rocky Mountains to capitalize on the salmon and fur trade. He would remain there, hunting, trapping, and living off the land, for the next nine years.

Journal of a Trapper is his remarkable account of that time as he developed into a seasoned veteran of the mountains and experienced trapper.